The Ultimate in Whitetail Breeding
History
Founded in 1992 by Ken Bailey, Four Canyons Ranch has become one of the premier whitetail breeding ranches in the country. With the expert guidance of Dr. James Kroll, the Ranch has established itself as a leader in breeding technology and whitetail genetics. Four Canyons is dedicated to breeding the optimal mix of both Northern and South Texas deer to create the biggest and best deer herd in Texas. Implementing both artificial insemination and natural breeding, Four Canyons has managed to maintain a deer herd of almost 1000 deer each year. We have been fortunate enough not to sell deer in the past which allowed us to hang on to all of our best genetic deer. However, we now have reached the stage where we have more deer in our pens and on our ranch than we need, and thus we are starting to offer limited does and bucks for sale. Whether you are a breeding ranch looking to upgrade your genetics or a hunting ranch looking to improve your herd, we are certain to have the greatest selection and highest quality deer you can find.

The original breeding stock was brought in from the northeast in the early 1990's and since then the Ranch has consistently been improving upon those early genetics through the use of both artificial insemination ("AI") and natural breeding processes. Four Canyons pioneered the AI industry almost 2 decades ago and has now amassed the world's largest inventory of whitetail semen from some of the biggest and most famous bucks in the world. With over 300 fawns born a year alone and over 1000 deer in the pens, we have every type of whitetail genetics available.
Breeding Program
The mission at Four Canyons is to create the biggest and best whitetail deer herd in the country. In working to accomplish this goal, the breeding program employs state of the art technology in deer handling and breeding and has been used as a test center for many of the new technologies in the industry today. To date, the Ranch has sold only a handful of deer to friends and family members and has not endeavored on selling deer to the public. However, with the new managers and a large surplus of deer in inventory, Four Canyons is now selling a limited supply of deer each year from both the AI and natural breeding programs.
Natural Breeding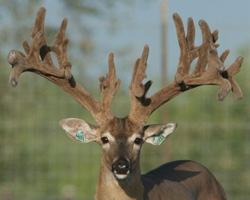 Our natural breeding program has been so successful that our Herd Sires (Herd Sires are bucks that are alive on Four Canyons and used in our natural breeding program) have caught up in size and quality to that of our AI Sires (AI Sires are those bucks at other ranches that we have acquired semen from and will be used in our AI breeding program). Both the AI and Herd Sires are illustrated in more detail on the links above.
Artificial Insemination Breeding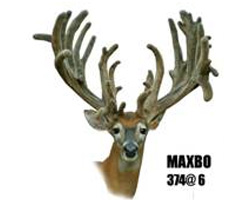 Four Canyons has one of the best AI breeding programs in the country. With over 15 years experience in the AI business, the Ranch has strived to perfect the art of AI on the highest quality of does possible. Four Canyons utilizes a blend of both South Texas AI Sires as well as Northern AI Sires to generate the best genetics possible.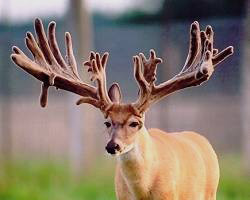 With over three thousand straws of whitetail semen from some of the best bucks in the world, the Ranch has produced over 1000 AI deer to date. The Ranch utilizes a combination of both normal and laparoscopic insemination on 150- 200 deer each year to generate the highest volume and best results possible. For more of our AI Sires, click on the link above.
Proven Results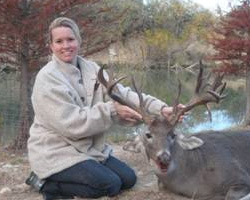 The results of our dedication and hard-work are unparalleled in the industry. Because we have not had to sell deer in the past, the Ranch has been able to hold on to all of its best deer. However, the few that have been sold have gone on to become some of the foundational deer for many of the breeding ranches you see advertising today. CLICK HERE to see some recent results from our breeding program.
Stickers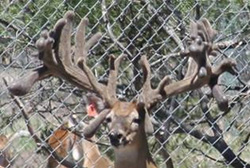 One of our most famous deer bred from our breeding program is Stickers – 350 B&C. Stickers was bred in our AI breeding program and is a son of Redoy Ben. He was raised from birth at the Morgan Ranch. He is the largest whitetail deer ever in Texas with a B&C score of over 350 B&C inches 4 years in a row. A picture of Stickers is shown here.